NHL 2018 CHAMPIONSHIP RING SPORTS HUNDREDS OF DIAMONDS
NHL 2018 CHAMPIONSHIP RING SPORTS HUNDREDS OF DIAMONDS
The ring features diamonds, rubies and sapphires and weighs 10.2 carats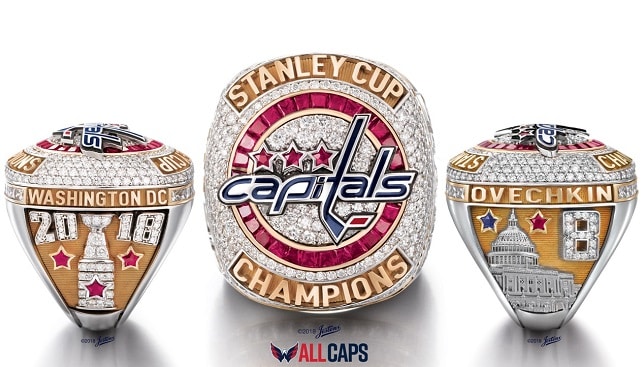 'Tis that time of year again: Jostens, the jeweler responsible for the yearly design of the National Hockey League's Stanley Cup Championship Ring, has unveiled the details it designed for the championship ring of the Washington Capitals players, who won the Stanley Cup in the 2017-2018.
The ring, designed by Master Jeweler Miran Armutlu, is made of 14-karat white and yellow gold and is set with 230 round diamonds and 22 princess cut diamonds. The total weight of diamonds is 5.5 carats. There are also 28 custom taper-cut rubies and seven custom-cut star-shaped rubies, totaling 4.6 carats. A star-shaped sapphire weighing 0.10 carats brings the total weight to 10.2 carats.
The ring also features "intricate storytelling details of the 2018 Stanley Cup Championship", such as the Capitals logo created from red and blue enamel and three star-shaped rubies set above the logo – inspired by the Washington DC flag.