CHRISTIE'S PRESENTS: THE HISTORIC JEWELS THAT CHANGED THE MARKET
CHRISTIE'S PRESENTS: THE HISTORIC JEWELS THAT CHANGED THE MARKET
The most historic jewels to be auctioned in the famed house for the last 25 years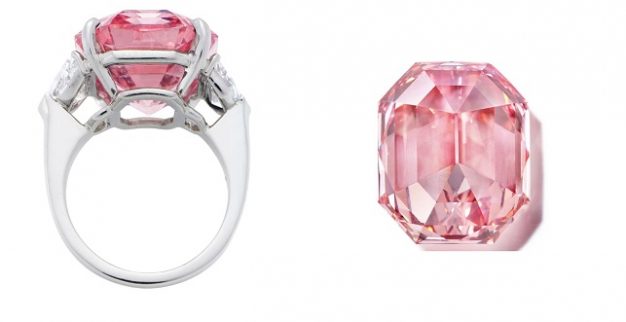 Late last week (December 12), Christie's announced that it maintains its position "as the jewelry market leader for the 25th consecutive year". In a feature dedicated to the most historic jewels – studded with diamonds, sapphires, rubies and more – to be auctioned in the famed house for the last 25 years, Christie's elaborated on their unique features, extreme rarity and the mind-boggling prices they achieved at auction. Here are five of them:
The Oppenheimer Blue Diamond
In 2016, Christie's hit the jackpot: on May 18, the Oppenheimer Blue – a 14.62 carat stunning diamond, the largest Fancy Vivid Blue diamond to have ever appeared at auction – was sold for CHF 56,837,000 ($57,973,000), making it the most expensive blue diamond in auction history.
The Oppenheimer Blue, so called in honor of its previous owner, the connoisseur Sir Philip Oppenheimer, has "perfect hue, impeccable proportions and fabulous rectangular shape". Its classification of the diamond as 'Fancy Vivid Blue' by the GIA (Gemological Institute of America) is the highest color grade and color intensity for blue diamonds.
According to Forbes, the rectangular-shaped gem beat the previous record held by the 12.03-carat "Blue Moon of Josephine," which sold for a world record of $48.4 million in November 2015.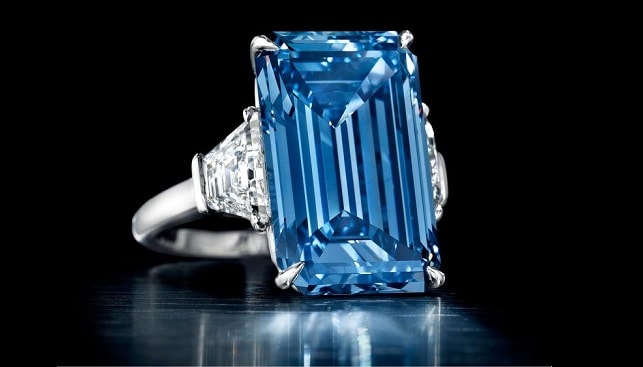 The Blue Belle of Asia
One of the largest blue sapphires in history is the Blue Belle of Asia, a formidable 392.52 carat stone and the fourth largest blue sapphire in history.
It was discovered in Ceylon (now Sri Lanka) in 1926 and bought by gem and jewellery dealer Macan Markar in Colombo. 11 years later, in 1937, Lord Nuffield, the founder of Morris Motors Limited, purchased the stone. It then mysteriously "disappeared" into private hands, only to reappear on November 2014, when it was presented for the first time at auction by Christie's in Geneva.
The rare sapphire was bought for CHF 16,965,000 (around $17,300,000), becoming the most expensive sapphire and the most expensive colored stone sold at auction.
The Rockefeller Emerald
On June 20, 2017, a record was broken at Christie's New York Magnificent Jewels when the Rockefeller Emerald went for $5,511,500 – a new world auction record per carat of $305,000.
The 18.04 carat emerald was gifted to David Rockefeller by his father upon the death of his mother, and then set in a ring designed by Raymond C. Yard in 1948. The GIA described the stone as "exceptional [with] unusual combination of size, provenance, absence of treatment and quality factors that contribute favorably to its rarity and desirability".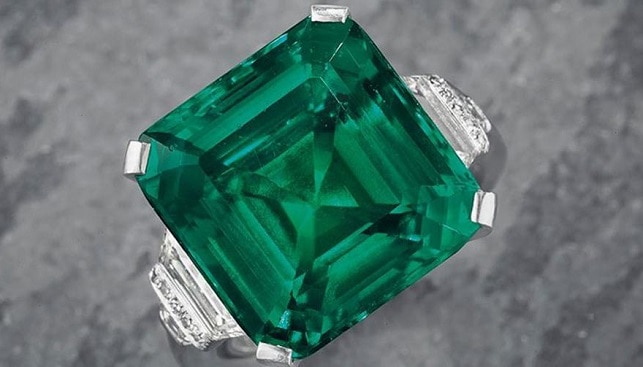 La Peregrina
This natural pear-shaped pearl jewel has a remarkable history. Weighing 202.24 grains, La Peregrina was found off the coast of Panama in 1576, and then bought by Philip II of Spain in 1582. Over the next 200 years, the jewels passed through the hands of eight kings of Spain before falling into the hands of Joseph-Napoléon Bonaparte, the elder brother of Napoleon Bonaparte.
In the modern era, La Peregrina was bought by actor Richard Burton in 1969, who paid $37,000 for it, then gifted it to his wife, Elizabeth Taylor, on her 37th birthday. It was then remounted on a necklace made by Cartier.
In 2011, La Peregrina came up for auction at Christie's New York, selling for a formidable $11,842,500. At the time, it was the most expensive natural pearl jewel ever sold at auction.
The Winston Pink Legacy
In November 2018, Harry Winston purchased the Pink Legacy, an extraordinary 18.96-carat stone, for a record 50.375 million CHF (approximately $50 million) at Christie's Magnificent Jewels auction in Geneva.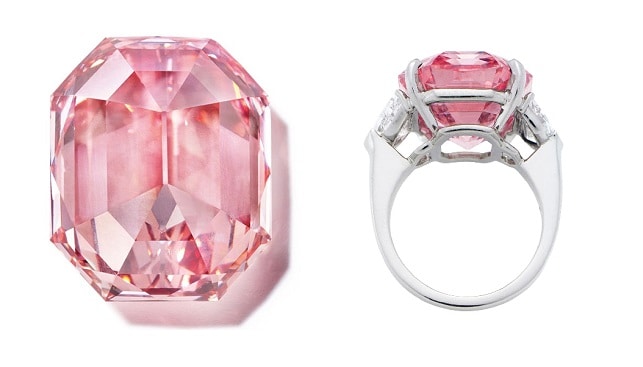 The diamond received the coveted 'Fancy Vivid' color grading from the GIA. According to Christie's, only one in 100,000 diamonds possesses a color deep enough to qualify as 'Fancy Vivid'. In the 250 years of auction history at Christie's, only four such stones have ever appeared for sale, as "Fancy Vivid Pink diamonds over 10 carats are virtually unheard of in the saleroom".