BRISK BUSINESS AT IDE'S POLISHED DIAMOND FAIR
BRISK BUSINESS AT IDE'S POLISHED DIAMOND FAIR
Around 60 Israeli diamond companies took part last week in an internal IDE diamond fair – the first of its kind – aimed at increasing the amount of trade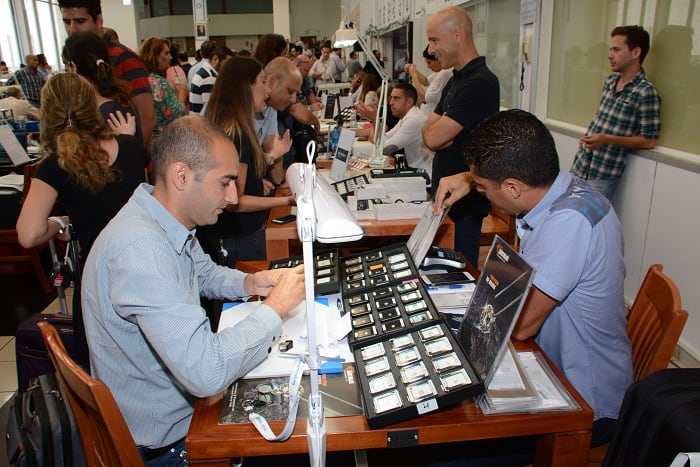 Around 60 Israeli diamond companies took part last week in an internal IDE diamond fair – the first of its kind – aimed at increasing the amount of trade in polished goods between bourse members. The fair, Dubbed "Blue and White Day", allowed 60 company owners who do not exhibit regularly, to show their merchandise in the Trading Hall. Two long tables were set, with a wide passage between them, and were quickly filled with the merchandise of the participating diamantaires.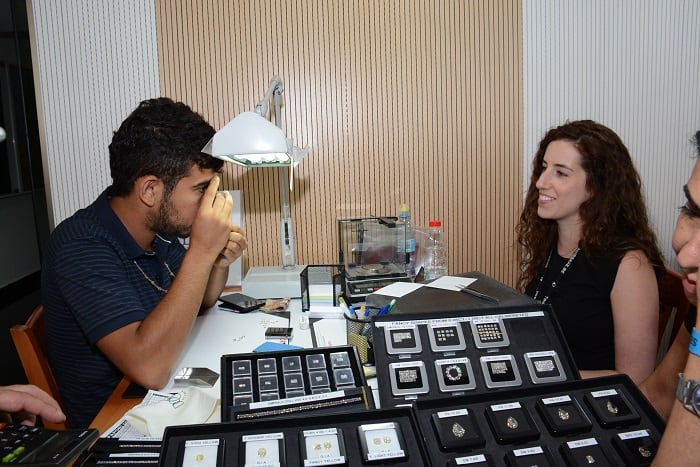 Company owners we talked to during the event expressed great pleasure with the initiative. "We've already had two orders," diamantaire Amnon Barak of Vivial Diamonds told us. "This fair is part of the activities around IDE's buyers' week. Our exposure to international buyers is great for sales promotion, but so is our exposure to other bourse members. It's a good opportunity for diamond companies to get to know one another."
Eyal Aharonoff from Aharonoff Creations added: "We appreciate the fact that the bourse is trying to promote trade. This is a blessed event, which lifts everyone's mood."
Ofir Ronen, owner of Rocks, said: "We're relatively new here, as we've been operating for only three years. This is a chance to step outside the office and meet traders and buyers. We participated in all the events related to the buyers' week, we met a lot of people, and it gives business a boost."
Ze'ev Noah from HND enthused: "The goal of this event is to encourage trade and showcase our goods. We met new people, sold two stones, and received offers on other stones. We're also getting offers to buy diamonds, so for us it's been a great day."
Adi Federman from Dov Diamonds said she would not have passed on such an opportunity to get business going: "It's a great opportunity to meet people and showcase our merchandise and skills."
"It's important for us to come down to the Trading Hall to showcase our merchandise and buy some as well. In this way, our goods get greater exposure, and this encourages business," said Meni Kashi from Moti Kashi Diamonds.
"This has been a highly successful event, and I hope it becomes a monthly fixture," summarized Rothem Erez from Rothem Erez Diamonds.
IDE President Shmuel Schnitzer greeted the numerous participants at the fair, saying: "We have revived the Exchange today. We were of two minds whether to hold the fair, and now it looks like we need to start working on the next edition in view of the large number of participants. We're experiencing challenging times and we are trying, through initiatives like this one, to encourage trade."
Ben Zion Shashu, Vice President of the IDE and head of the fair's organizing committee, said: "I'm happy to see that the initiative was so well received: Our goal is to revive the Trading Hall. This is the first time that such an event has been held, and we'll learn what happened here today and implement some changes to make the next show even better."
By: Iris Hortman